A while ago me went with Berry to Amsterdam. Well, that isn't so special me suppose, me goes with Berry to Amsterdam for Script too, so. But this time, it was special! Me went with Berry on an interview.
You must know Berry is a writer and a journalist. She is also chief editor from a professional magazine. So when Berry goes to a convention for work, me is a bit important too. Today, me was also a bit important. But that will come later.
In Amsterdam we went to a very trendy hotel and waited in the café for Brace. He is a Dutch Urbansinger, like Usher. He is really good, cause he sings with his heart! He also wants to be a rolemodel for the kids! Like Cookie, but then in a different way offcourse.
Berry had a very nice and fun interview with Brace for her magazine. Me listened with awe. And when the interview was over, Berry asked if Me could go on a picture with Brace. ME!
Me was so proud! And this is the result!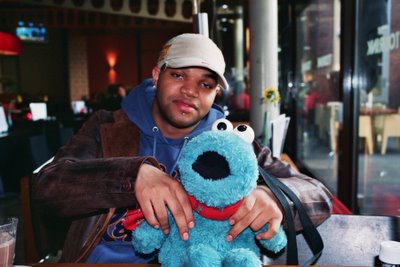 Brace liked the suggestion. He said: 'If you can talk to other celebs you can have loads of pictures with Cookie Monster and stars!' Ofcourse he said it in Dutch, but me understand! And me liked his proposal. So me hopes Berry can interview other Dutch celebs too and that they are just as enthusiastic about going on a picture with me! It is very cool! So maybe next time me can talk about another meet & greet.
But me say byebye for now. Until next time!